An Artist's Heart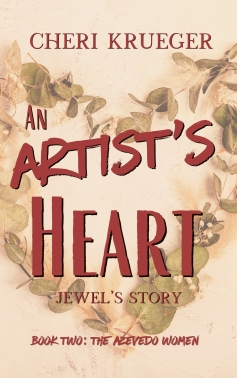 Jewel's Story
Grieving the loss of her fiancé, 23-year-old visual artist Jewel accepts an invitation to live with friends in Carmel, to paint by the sea, heal her heart, and rediscover her dream of seeing her canvases hang in a fine art gallery.

In Carmel, Jewel meets fiery local artist Vince and sparks fly in more ways than one. He is an outrageous flirt, and he's competition, another artist taking up space where she wants to be.

Her heart has fooled her before and Jewel is reluctant to get close to Vince despite her undeniable attraction. When she finds the courage to make her feelings known, Jewel learns what Vince has been hiding and decides she is better off without him.

Vince is not ready to admit defeat, but he has an obsessed admirer of his own, and she is willing to risk lives to get him back.
979-8458739498