Thanks, Universe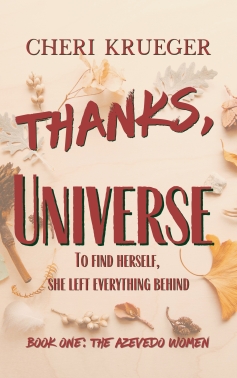 To find herself, she left everything behind.
Wilma Azevedo became a mother in her forties, after years of trying. Her rebellious daughter Pauline became a mother at fifteen. Deeply depressed, Pauline rejects her newborn daughter and Wilma becomes more mother than grandmother to the baby she named Jewel: precious and valuable.

With her mother's blessing, eighteen-year-old Pauline accepts a job at a friend's estate in Portugal. While Wilma raises her granddaughter, free-spirit Pauline embraces an exciting new life with her found family in Portugal, and she has no intention of ever returning to California.

But when Pauline sees her chance to earn forgiveness, she is prepared to sacrifice everything for both of her families.

Across fifteen years and two continents, three generations of mothers and daughters navigate fraught relationships, and define 'family' on their own terms.

This book can be read as a standalone but if you want more of the Azevedo women, read the sequel "An Artist's Heart" to see what happens to Jewel as a young adult.
979-8454108663